Multi-constellation GNSS module
27 February 2019, Telecoms, Datacoms, Wireless, IoT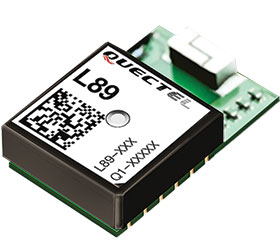 Quectel's L89 is a high-performance GNSS module supporting multi-constellation GNSS and dual GNSS bands. It can acquire and track GPS, IRNSS, GLONASS, BeiDou, Galileo and QZSS signals. With 2 embedded antennas, the module can work at L1 and L5 bands simultaneously. Compared with a GNSS module working at L1 band only, the L89 can generally increase the number of visible satellites, reduce time to first fix and enhance positioning accuracy, especially when driving in rough urban environments. It achieves high performance both in acquisition and tracking, and fully meets the industrial standard. With embedded LNA, dual antennas and antenna switch function, it is suitable for automotive, consumer and industrial tracking applications.