24 November 2021 Telecoms, Datacoms, Wireless, IoT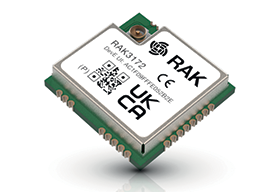 The RAK3172 is a low-power LoRa transceiver module that is based on the STM32WLE5CC chip from STMicroelectronics. It provides an easy-to-use, small, low-power solution for long-range wireless data applications and complies with Class A, B and C of the LoRaWAN 1.0.3 specification.
Made by RAKwireless, the device can easily connect to different LoRaWAN server platforms like The Things Network (TTN), ChirpStack, Actility and others. It also supports LoRa point-to-point (P2P) communication mode which helps when implementing your own customised LoRa network quickly.
The mode and operation of the module can be configured using AT commands via a UART interface. The RAK3172 also offers low-power features ideal for battery-powered applications. The STM32WLE5CCU6 on which it is based runs an Arm Cortex-M4 32-bit core with 256 KB of Flash memory (with ECC) and 64 KB of RAM.
Other specifications include ultra-low current consumption of 1,69 μA in sleep mode, a supply voltage range of 2,0-3,6 V and an operating temperature range of 40°C to 85°C.