25 November 2020 Telecoms, Datacoms, Wireless, IoT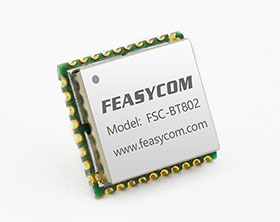 Made by Feasycom, the FSC-BT802 is a high-performance Bluetooth audio module adopting a CSR8670 chipset. It's an ultra small (9,7 x 11,5 x 1,8 mm) Bluetooth 5.0 dual-mode module which supports apt-X,apt-X LL,apt-X HD and CVC features.
The device has BQB, CE, FCC, TELEC and IC certifications, supports A2DP, AVRCP, HFP, HSP, SPP, GATT and PBAP profiles, and has no on-board antenna to keep its size small.
Features:
• Bluetooth v5.0/4.0/3.0/2.1/2.0/1.2/1.1, Class 1.5.
• Postage stamp sized: 9,7 x 11,5 x 1,8 mm.
• Low power consumption.
• Supports HSP, HFP, A2DP, AVRCP, PBAP, MAP, SPP and BLE profiles.
• The default UART baud rate is 115,2 Kbps, and from 1200 bps up to 921 Kbps are supported.
• Interfaces: UART, I2C, PCM/I2S, nine PIOs, two AIOs.
• Audio interfaces: I²S/PCM and SPDIF.
• Supports CSR's latest CVC technology for narrowband and wideband voice.
• Supports apt-X, apt-X HD, TWS.