From the editor's desk: IoT protocols battle it out
31 January 2018, News
As the number of Internet of Things (IoT) applications grows, so too does the number of protocols supporting this proliferation. While each protocol has its own strengths and weaknesses, the resulting alphabet soup is becoming difficult for engineers to keep a handle on. In our 'Telecommunications, Wireless, IoT, RF & Microwave' feature in this issue, we examine a couple of these in particular.
The first of these articles, by ICORP Technologies and Quectel, looks at MQTT (MQ Telemetry Transport) protocol. Based on a publish/subscribe messaging system, MQTT is optimised to connect physical world devices and events with enterprise servers and other consumers, and is ideal for connected devices that place a premium on bandwidth and battery power.
The second article, by u-blox' Stefano Moioli, covers the more widely known Long Term Evolution (LTE). Although LTE is better known for its adoption in the mobile consumer market, the growing variety of LTE categories being developed specifically for IoT applications will surely stand it in good stead. One of the most popular of these categories is proving to be Cat NB1, also known as Narrowband IoT or NB-IoT, which is currently being trialled by South African mobile operators and can take advantage of existing cellular base station infrastructure.
Those are far from the only protocols of interest to the IoT market, of course. In a new market report, Research and Markets found that much of Europe and many parts of the Asia Pacific region are covered with Sigfox and LoRa networks, with Low-Power Wide Area (LPWA) services offered by key telecom operators. In the US, LoRa will have the largest private unlicensed industrial LPWA network growth, and LTE-M1 will do the same for licensed public networks.
LoRa's chirp spread spectrum advantages, deep building penetration, open source networking and suitability for private and public networks has attracted thousands of developers and the world's largest network operators. In October 2017, the LoRa Alliance announced the availability of three LoRaWAN specifications for its 500 members offering passive and active roaming, standards for backend interfaces and regional radio parameters that makes moving devices between LPWANs worldwide seamless.
Multi-radio modules are creating new opportunities for industrial IoT developers. The first variation is multi-radio LPWA modules with integrated short-range radios such as Bluetooth Low Energy (BLE) and 802.15.4. Another trend is LPWA hybrid modules where two LPWA radios are used: a low bit rate radio for long device lifetime functions and a high bit rate, low latency radio for advanced functions and over-the-air updates.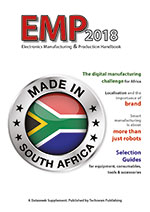 The Research and Markets report predicts that, by 2025, industrial connected wireless sensing, tracking and control devices will approach half a billion, up from 35 million in 2017. LPWA technologies such as LoRa, Sigfox, LTE-M and NB-IoT are expected to make up most of this growth, and industrial LPWA device connections will make up 1 in 4 by this time.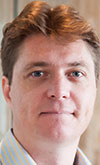 On another note, as has become tradition, January sees us publishing our Electronics Manufacturing & Production (EMP) Handbook, the fourth time we have done so, a copy of which you will have received together with this, the year's first issue of Dataweek.
I would like to take this opportunity to wish all Dataweek readers a successful, safe and productive 2018.
Brett van den Bosch
Editor