Dual-band Wi-Fi module
30 January 2019, Telecoms, Datacoms, Wireless, IoT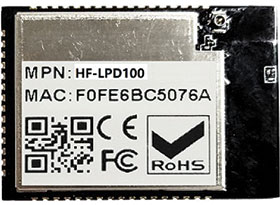 The HF-LPD100 from Hi-Flying is a Wi-Fi module supporting both the 2,4 GHz and 5 GHz bands. It is a fully self-contained, small form-factor, single-stream 802.11b/g/n solution for providing a wireless interface to any equipment with a serial interface for data transfer. The device integrates a MAC, baseband processor, RF transceiver and power amplifier, as well as all Wi-Fi protocol and configuration functionality and a networking stack in embedded firmware to make a fully self-contained solution. It employs a low-power consumption embedded architecture optimised for applications in home automation, smart grid, handheld devices, personal medical applications and industrial control, that require lower data rates and transmit or receive data on an infrequent basis.