30 May 2022 Telecoms, Datacoms, Wireless, IoT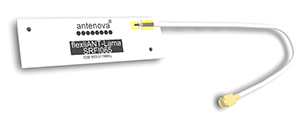 Lama is a new dual-band antenna covering both the 863 to 870 MHz and 902 to 928 MHz ISM bands. This enables the antenna to be used in both Europe and America, as well as other regions worldwide using the same bands. It is suitable for all products that utilise protocols such as LoRa, MIoTy and Sigfox.
Lama is a flexible printed circuit (FPC) antenna with an integrated cable that connects directly to a host PCB, providing easy integration. The antenna, which has a high efficiency of 52%, does not require a matching network or a transmission line within the design. The antenna's small overall dimensions of only 35 x 10 x 0,15 mm make it ideally suited to designs with limited available space and is a good choice for small devices in IoT applications operating across a wide geographic area.
The antenna is supplied with a standard 100 mm RF cable with an integrated IPEX MHF connector. Having an integrated cable with connector allows the antenna to be plugged directly into a PCB, enabling a shorter product design cycle.