25 November 2020 Opto-Electronics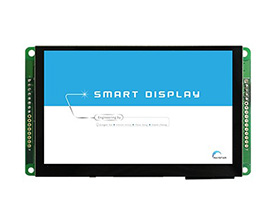 The RL0F00050000FGAAASA00 from Raystar is a 5", CAN-enabled TFT display which is defined as a slave device, and controlled by a master device via CAN-bus commands to render display content on the display screen and return touch event data with protocol objects.
An easy-to-use product which allows you to develop projects rapidly in a cost-effective manner, the display integrates a standard TFT module (RFF500F-AYW-DNG) and a four-layer FR4 PCBA with built-in firmware. It can be used on multiple host platforms, such as a computer (with USB2CAN dongle), microcontroller, or Raspberry Pi (with PiCAN2).
Features include:
• 5 V DC working voltage, low power consumption.
• Power-on self-test and splash screen.
• CAN-bus interface.
• Supports CANopen protocol, with a default baud rate of 250 KBps.
• Built-in Flash memory to store the font and object dictionary data.
• Supports PCAP touchscreen.
• Built-in buzzer controlled from a master device.